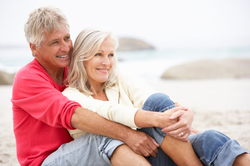 For more than 150 years, the Bausch & Lomb brand has represented the absolute state of the art in quality eye care and vision restoration technology. While North County Laser Eye Associates hasn't been around quite that long, our name is also synonymous with exceptional eye care and vision restoration. This is why we are extremely proud to introduce to our practice in Carlsbad the new Bausch & Lomb VICTUS femtosecond laser platform. Cataract surgery can now be performed with unrivaled precision and predictable success.
At our renowned laser eye surgery center, we have always used only the most advanced and effective technologies to ensure the safety, comfort, and overall satisfaction of our patients. Cataract surgery using the VICTUS femtosecond laser platform is just one more means of showing how serious we are in our commitment to our patients.
How the VICTUS Platform Improves Cataract Surgery
For decades, cataract surgery has been performed using a handheld blade to make incisions, through which the eye's damaged natural lens is broken up with sound waves and subsequently removed. This conventional technique has an excellent record of safety and success.
Still, any procedure that can be performed with a computer-guided laser rather than a handheld cutting device is bound to be safer and more accurate, and that holds true for cataract surgery. Even the surest-handed eye surgeon cannot match the precision of an advanced laser. The VICTUS laser uses femtosecond pulses to create incisions, without heat or shock to the eyes. This technology was approved by the FDA for the creation of corneal flaps in LASIK surgery in 2002, and has since made that procedure safer, with dramatically fewer instances of serious complications. Now that same degree of accuracy is possible with cataract surgery, thanks to recent FDA approval.
The VICTUS femtosecond laser platform allows for superior cataract surgery at every stage of the procedure, from the all-important planning phase to the placement of a premium, multifocal intraocular lens (IOL). Our eye surgeons can take advantage of real-time, three-dimensional images of the eye at every juncture, ensuring that healthy eye tissues are left undisturbed as the diseased lens is removed. The laser can further be used to soften the cataract, making it easier to emulsify with minimal exposure to ultrasonic waves.
All in all, cataract surgery performed with the VICTUS femtosecond laser platform is a more efficient, comfortable, and effective experience for the patient. As a patient of North County Laser Eye Associates, you deserve only the best, and the VICTUS system offers precisely that. Bausch & Lomb quality coupled with the skills and talents of our team members is a combination that you can count on.
Learn More about VICTUS Femtosecond Laser Cataract Surgery
If your vision has become impaired due to cataracts, cataract surgery is the only permanent solution to your problem. VICTUS femtosecond laser cataract surgery, followed by the placement of a premium, multifocal IOL, can give you back the clear, crisp vision you had in your youth, possibly even eliminating your need of glasses or contact lenses. To find out more about this remarkable breakthrough in cataract surgery, please contact North County Laser Eye Associates today.