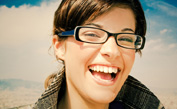 Whether you are a child, teenager, adult, or even a senior when you first start wearing glasses, the experience can be frustrating. Requiring the help of visual aids in order to see clearly is not ideal. Fortunately, there is an ever increasing range of frame styles and lens options available today to help you clearly see the world around you and to help you look your very best. At the laser eye surgery center located in Carlsbad, North County Laser Eye Associates, there is a wide selection of optometric glasses including rimless frames, anti-glare coatings, and free-form custom lenses.
Preserving the Health of your Eyes
The easiest way to maintain the health of your eyes is to undergo a routine eye examination. Eye exams provide essential information about the health of a patient's eyes. An eye examination is necessary to determine a patient's eye prescription.
Designer Optometric Glasses
Rimless glasses are an excellent option for patients who do not desire to draw attention to their glasses. They are designed to look as though you are not wearing glasses, while at the same time offering the wearer a sophisticated look. With the vast selection of designer frames available today, it is easier than ever to find glasses that perfectly complement your physical features and your personality. While there is an abundance of designer frames available today, some of the most popular brands are Silhouette, Gant, Paul Smith, KBL, Calvin Klein, Flexon, Dior, Michael Kors, Tom Ford, Gucci, Kio Yamato, Maui Jim, Fendi, Oakley, Lindberg, Oliver Peoples, Kate Spade, and Marc by Marc.
Anti-glare Coating
Glare, halos, and reflections can make it extremely difficult to see clearly. Unfortunately, these issues are common for patients who wear glasses. Fortunately, there are anti-reflective and anti-glare coatings available to address these issues. These coatings can even protect the lenses from scratches. With anti-glare or anti-reflective coating, patients can see more clearly and experience sharper, more vivid vision. Anti-glare coating eliminates reflections of light from both the front and the back surfaces of the lens. Another benefit of anti-glare coating is that it reduces the glare that others see on the lenses, making the lenses appear almost invisible.
Free-Form Custom Lenses
With traditional lenses, patients can achieve 20/20 vision, but still feel as though they are not seeing the world as vividly or as clearly as they should. This is because patients often experience lens aberrations with more traditional or conventional lenses. These lens aberrations can narrow a patient's field of vision and decrease vision quality. Unlike traditional lenses, free-form lenses are customized and designed to accommodate the unique prescription and viewing habits of the wearer. With free-form custom lenses, a patient can experience sharper, crisper, bolder vision than ever before. Free-form lenses are among the most technologically advanced lenses on the market today. These revolutionary lenses offer the patient a wider field of view, and clearer, sharper vision.
Schedule a Consultation
In addition to the wide range of lens and frame options we offer, we also have a large selection of sunglasses. Even with the large selection of lens and frames options that are available today, not every patient will desire to wear glasses. Contact lenses are an excellent alternative for patients who do not want to wear glasses. Patients who do not want to wear glasses or contact lenses may benefit from refractive surgery. To learn more about all of the optometric glasses, contact lenses, and refractive surgery options available to you, please contact North County Laser Eye Associates today.