Many people who have been wearing eye glasses and contact lenses for years are pleased that there is an FDA approved surgical option that reduces or eliminates their need for corrective lenses. By undergoing San Diego laser eye surgery, these people are often able to see better without worrying about lenses, frames, cleaning solution, and so forth. We're pleased to provide patients with that level of freedom while paying attention to quality of vision and eye health in the process.
About LASIK Surgery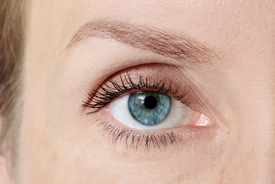 The most popular laser eye surgery by far is LASIK (laser-assisted in situ keratomileusis). During LASIK surgery, a laser is used to reshape the cornea. Doing so will alter the way light passes through the eye and focuses on the retina, sharpening the vision.
This is an excellent option for dealing with refractive errors–myopia (nearsightedness), hyperopia (farsightedness), and astigmatism. Our team of Carlsbad laser eye surgeons will let you know if LASIK is the best option for your needs.
What is Wavefront&â"¢ LASIK?
As LASIK surgery has improved over the years, eye surgeons have been using advances in technology to better address the needs of their patients. That is perhaps a good way to segue into a discussion about Wavefrontâ"¢ LASIK technology. LASIK performed using Wavefrontâ"¢ technology means customized LASIK that is better able to pinpoint and treat very minute imperfections of the cornea.
About Wavefrontâ"¢ Technology
Wavefrontâ"¢ refers to a special mapping system that lets surgeons perform even more effective and accurate laser eye surgery. When you visit a San Diego LASIK center with Wavefrontâ"¢ technology, you can expect great vision improvement and fewer side effectsthan traditional LASIK surgery.
Wavefrontâ"¢ uses three-dimensional mapping technology, which makes the surgery 25 times more accurate than traditional LASIK methods. This three-dimensional map of the cornea is fed into a computer, which is then used to guide the surgical laser during your actual LASIK surgery. This means pinpoint accuracy and reduced chance for human error.
The Results of Custom LASIK Surgery
The results of custom LASIK surgery are quite remarkable. The chances of a patient potentially achieving 20/20 vision or sometimes better are enhanced. More importantly, though, Wavefrontâ"¢ LASIK corrects for higher-order aberrations. These are the kinds of vision problems that cannot be detected in a traditional vision test, such as glare, haloes, contrast sensitivity, and starbursts.
Candidacy for Wavefrontâ"¢ LASIK
The best candidates for custom LASIK are people with refractive errors who have stable vision and are in generally good health. These patients must be over the age of 18 and should not be pregnant, nor should they be recovering from an eye injury or infection that occurred in the last year. Sometimes eye problems such as thin corneas and dry eye syndrome will prevent patients from undergoing custom LASIK.
Should you not be a good candidate for LASIK surgery, your surgeon may offer PRK as a better treatment option and there are eye exams and optometry services available that can help determine how your eye care needs can best be addressed.
Learn More About Custom LASIK Surgery
For more information about custom LASIK using Wavefrontâ"¢ technology, be sure to contact our vision correction center in Carlsbad today. We look forward to your visit and hope to hear from you soon.